Get The Best Aesthetic Advise
We pride ourselves in offering you highest quality services with value for money, competence and compassion.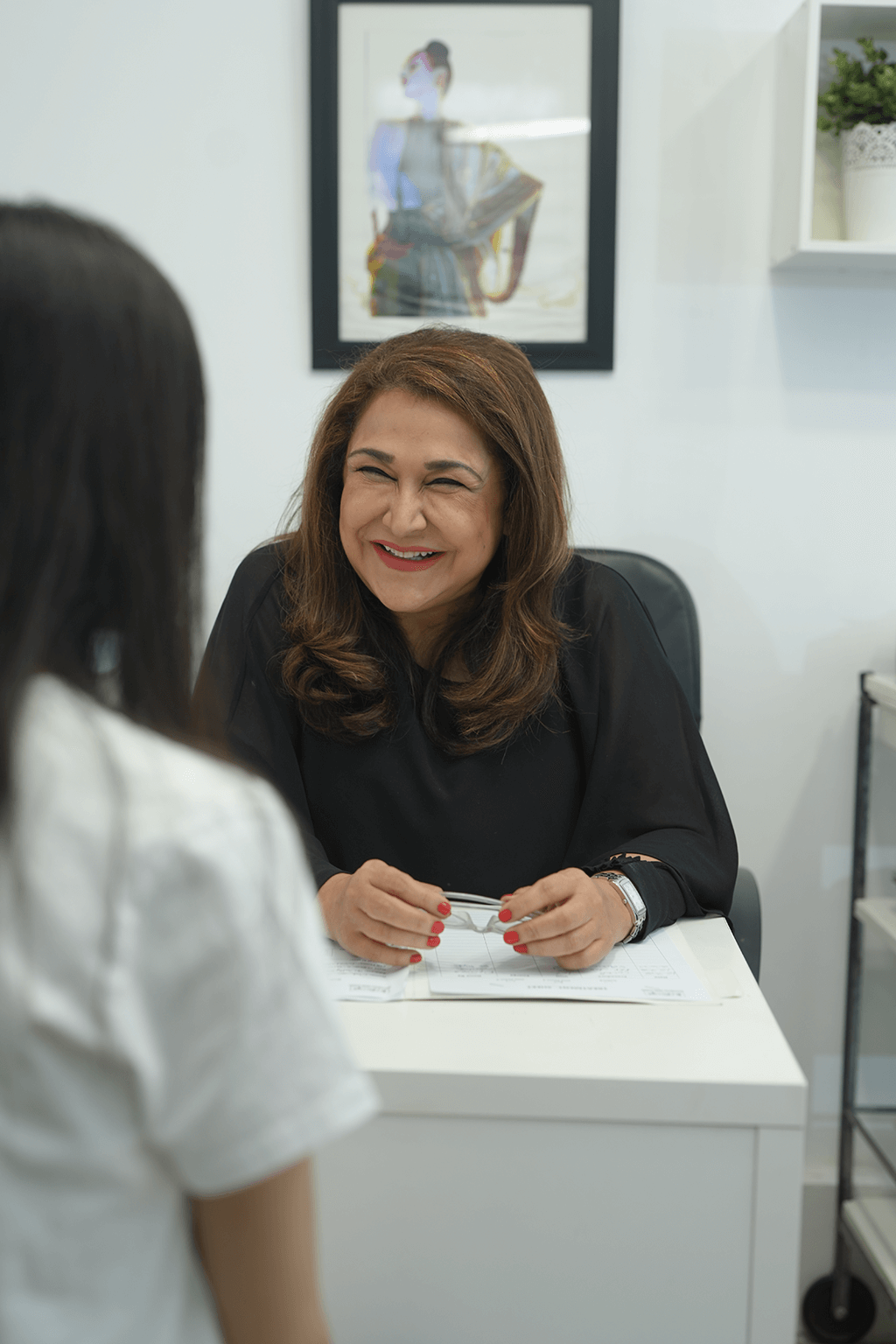 Time to get Beautiful on the outside too

Senator Dr. Zarqa Suharwardy Taimur is a multifaceted personality who is well known nationally and internationally. She is a gold medalist and consultant in Aesthetic and Anti-aging medicine, trained in USA, UK, Middle East & Pakistan. Equipped with FCPS, MRCP, FFOM, DIPDERM and certification from American Academy of Aesthetic Medicine, her expertise and skill are unmatched. She has worked with 80 nationalities,served as an examiner with the Royal College of Physicians of Ireland,  been on faculty of Otago University, New Zealand and worked as regionalmanager MENA with Dubai Petroleum & ConocoPhillips.She is also affiliated with Loreal Pakistan in an honorary capacity.
Dr Zarqa started her public appearance on Nadia Khan Show in Dubai in 2001. Since then she continues to appear on talk shows and morning programs for PTV, Geo, ARY, Dunya, GNN etc. Her articles addressing skin and social issues are published in leading newspapers and magazines, Libas International, The News, The Nation, Dunya and many others.
Dr. Zarqa is known to be an exceptional motivational speaker and philanthropist. Before moving back to Lahore she was President Medical Wing of Dubai Pakistan Association and the driving force in organizing free medical camps for the poor in addition to free English classes for taxi drivers. As a political activist and Pakistan Tehreek e Insaf leader, she is keen to promote accountability and transparency in society. She has served as President Lahore Women Wing and as Media head Punjab women Wing. Since her return to Pakistan she has formed a support and awareness group for Downs Syndrome; actively promoting inclusion in normal society for these children and adults.
Our team of competent doctors and dedicated medical experts work together to bring you the safest and most effective treatments. They're highly skilled and experienced in helping you achieve the skin you've always dreamed of. Our team of experienced doctors and dedicated staff will work with you to help you achieve your dreams of flawless, smooth and soft skin.
For the past 13 years we've been using technologies, and partnering with leading and highly renowned suppliers to ensure we deliver to the highest of standards, and to give you total peace of mind that you are in safe hands.
If you want to feel better about the way your skin looks, you'll be looking for expert advice, the most advanced care, and treatments that'll really work for you. We are trusted specialists in all the latest rejuvenation techniques and advanced laser treatments including Exosomes, Botox®, fillers, Threads, Laser Hair Removal, Skin Peels, PRP and medicated facials. Nothing gives us more pleasure than to help a new client start a journey towards perfect skin; book a no-obligation consultation with one of our Skin experts. We look forward to meeting you.
dermatology
We provide quality skin
care for our clients.
amazing results
Cosmetic Dermatology.
Before and After